We offer comprehensive legal advice in Colombia, specialized and personalized, to domestic and foreign clients, starting from the identification of the most optimal and efficient corporate structures and vehicles according to the needs of our clients and their activities. We promote and materialize processes of optimization of corporate structures for small and medium-sized companies.
Incorporation of Companies,
Preparation of Minutes of Shareholders' Meetings or Partners' Meetings.
Statutory reforms
Dissolution and liquidation of companies, 
Assistance and accompaniment in the fulfillment of the annual obligations of the companies.
Elaboration of Corporate Governance Code
Elaboration of business ethics codes and design of compliance schemes.
Shareholders agreements
Mergers and acquisitions
Assistance in handling corporate conflicts
COMMERCIAL AND COMPLIANCE
Structuring of Commercial Contracts
Elaboration of concepts related to corporate and commercial aspects.
Integral structuring of initiatives, projects and startups
Competition law issues
Protection of personal data
Asset protection
Compliance
Legal Due Diligence Processes
Copyrights
Trademark Registration and Renewal
Filing of appeals before the SIC
Patents
Visa Application Type V (Visitor)
M Visa Application (Migrant)
R Visa Application (Resident)
Visa application type B (Beneficiary)
Assistance in procedures with Migratory entities
Foreign exchange compliance
Foreign investment
Foreign indebtedness
Foreign trade operations
Investment processes
Clearing accounts
LEGAL, TAX AND ACCOUNTING OUTSOURCING
If you are thinking of incorporate an entity in Colombia or a branch, at Estudio Legal Hernández, we can help you to materialize this goal, we offer you the advisory and constitution service of your entity or branch, including the management of the entity, and the legal and fiscal representation of your company to comply with local regulations, that apply in several aspects as legal, corporate, labor and tax matters.
ELIANA DEL PILAR ZÁRATE VILLAMIZAR
Corporate Law Director
eliana@estudiolegalhernandez.com
JOSE IGNACIO RUEDA POSADA
Corporate Law Coordinator
ignacio@estudiolegalhernandez.com
Corporate Law Associate
natalia@estudiolegalhernandez.com
The Corporate M&A area provided legal support and assistance to Ecoener Ingeniería Colombia S.A.S. in the closing of the acquisition of the company and the Genersol generation project.
The Corporate M&A area provided legal support and assistance to the company Atlántica Colombia S.A.S E.S.P. in the purchase of the companies Aages Colombia and Parque Fotovoltaico La Sierpe S.A.S. ESP La Sierpe.
The Corporate area provided advice on matters related to the exchange regime for foreign capital investment in Colombia, corporate matters, corporate secretarial services in the preparation of minutes of shareholders' meetings, preparation and review of lease agreements and, in general, advice on the tax planning of the business model in Colombia to the company Notus Energía Colombia S.A.S.
A continuación compartimos nuestra guía anual de obligaciones corporativas para el año 2023, donde reunimos las principales obligaciones de las empresas y las fechas límite para su cumplimiento.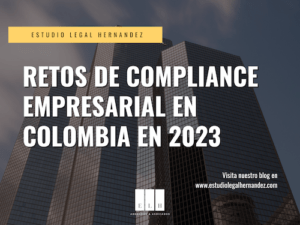 Es muy importante que las empresas permanezcan actualizadas en la regulación que les resulte aplicable, tomen las medidas necesarias para implementarlas y sea posible prevenir el riesgo de actividades ilícitas.
Las circunstancias actuales y los constantes cambios exigen que todos continuemos adaptando nuestras prácticas…